Jamaican Callaloo
Jamaican Cabbage and Codfish
Jamaican Ackee and Saltfish
Jamaican Carrot Juice
Vegetarian Curry Tofu
Jamaican Callaloo With Shrimp
Crockpot Thai Lentil Stew
Irie Sweet Potato Burger
Quinoa and Black Bean Stuffed Peppers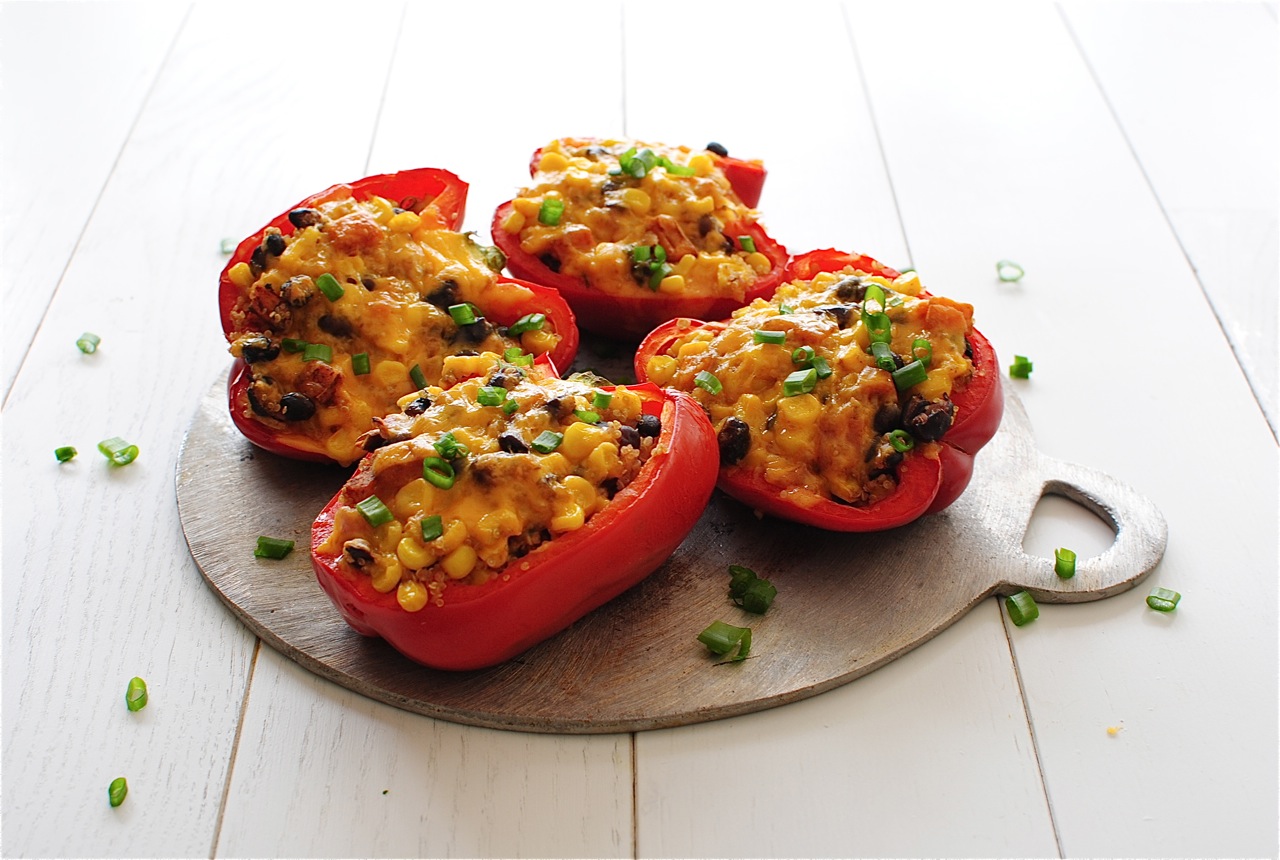 Ingredients
1 medium onion, finely chopped
2 ribs celery, finely chopped
2 15-oz. cans diced tomatoes, drained, liquid reserved
1 15-oz. can black beans, rinsed and drained
1 10-oz. pkg. frozen chopped spinach, thawed and squeezed dry
1½ cups grated reduced-fat pepper Jack cheese, divided( optional)
4 large red bell peppers, top cut off and seeds removed

Directions
Heat oil in saucepan over medium heat. Add onion, carrot and celery, and cook 5 minutes, or until soft. Add cumin, oregano, paprika and garlic, and sauté 1 minute. Stir in drained tomatoes. Cook 5 minutes.
Stir in black beans. Cover, and bring to a boil. Reduce heat to medium-low, and simmer 15 minutes. Stir in spinach and cook 5 minutes. Stir in cooked quinoa and 1 cup cheese (optional). Season with salt and pepper, if desired.
Preheat oven to 350°F. Pour liquid from tomatoes in bottom of baking dish.
Fill each bell pepper with heaping ¾-cup quinoa mixture, and place in baking dish. Cover with foil, and bake 1 hour. Uncover, and sprinkle each pepper with 1 Tbs. remaining cheese (optional). Bake 15 minutes more, or until tops of stuffed peppers are browned. Let stand 5 minutes. Transfer stuffed peppers to serving plates, and drizzle each with pan juices before serving.
Pineapple, Mango and Basil
Popsicles











Ingredients:

2 14 oz pineapple cans, juice included
6-8 large fresh basil leaves
Directions:

Place all the ingredients in your food processor and pulse until smooth.

Pour mixture to the rim of each popsicle hole in the popsicle mold and place a wooden stick on each.
The wooden stick will stay in place because the mixture is a bit thick. Freeze for at least 4 hours.
Asparagus Peas and Smoked Gouda Frittata
Ingredients:

1 cup diced asparagus, about 1-inch long segments (I used fresh; frozen may be substituted)
1 cup peas (I used frozen and did not thaw before baking)
6 large eggs, lightly whisked
salt and pepper, to taste
about 1 cup shredded smoked gouda, loosely packed (substitute with mozzarella, fontina, brie, Havarti, or an easy-melting cheese)
Directions:

Preheat oven to 350F and spray a 9-inch pie dish with cooking spray; set aside.
Evenly sprinkle the asparagus over the bottom of dish.
Evenly sprinkle the peas.
Evenly pour the eggs over the top.
Season with salt and pepper, to taste.
Evenly sprinkle the cheese over the top.
Bake for about 20 minutes, or until eggs are set and top is lightly golden browned, or as browned as desired. Serve immediately; frittata is best warm and fresh although leftovers will keep airtight in the fridge for up to 5 days.
Vegetable Pizza Crisp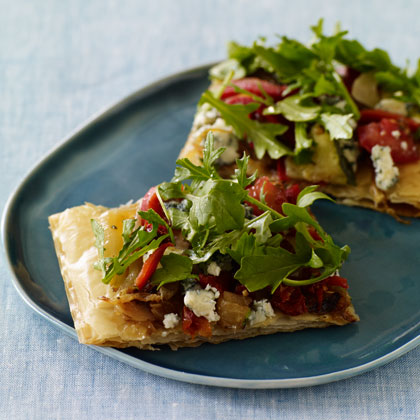 Ingredients

1 tablespoon olive oil
1 onion, sliced
4 sheets frozen phyllo dough, thawed
Cooking spray
1/4 cup blue cheese crumbles
1/3 cup sliced jarred roasted bell peppers
1/4 cup chopped sun-dried tomatoes
1/2 cup baby arugula
Preparation

Preheat oven to 350°. Heat a nonstick skillet over medium-high heat; add olive oil to pan. Place onion in pan; sauté until caramelized (20-25 minutes), stirring frequently. Cut 4 sheets phyllo dough in half. Lightly coat 1 piece with cooking spray; place on baking sheet coated with cooking spray. Place another phyllo half on top of the first; coat with cooking spray. Repeat until all sheets are stacked and coated. Bake until golden and crispy (10-12 minutes); cool. Top phyllo with blue cheese crumbles, sautéed onion, roasted bell peppers, and chopped sun-dried tomatoes. Top with baby arugula. Cut into 8 slices; serve.
Yield: 4 servings (serving size: 2 slices)

Calories per serving 166; Fat per serving 7g; Saturated fat per serving 2g;
Monounsaturated fat per serving 4g; Polyunsaturated fat per serving 1g;
Protein per serving 5g; Carbohydrates per serving 19g; Fiber per serving 1g
Cholesterol per serving 6mg; Iron per serving 1mg; Sodium per serving 569mg
Calcium per serving 70mg
Chicken with Honey-Orange Sauce
Ingredients
2 navel oranges
2 tablespoons all-purpose flour
1/2 teaspoon salt, divided
1/4 teaspoon freshly ground pepper
4 boneless, skinless chicken breasts, (about 1 1/4 pounds), trimmed and tenders removed
1 cup reduced-sodium chicken broth
1 tablespoon canola oil
1 cup white wine
1/2 cup golden raisins
2 tablespoons honey
1 3-inch cinnamon stick
1/2 cup slivered almonds, toasted (see Tip)
Preparation
Zest and juice one orange. Remove the skin and white pith from the other orange, then halve and slice. Reserve zest and juice separately from the orange slices.

Combine flour, 1/4 teaspoon salt and pepper in a shallow dish. Dredge chicken in the flour, shaking off any excess. Transfer the remaining flour to a small bowl, add broth and whisk to combine.

Heat oil in a large nonstick skillet over medium heat. Add the chicken and cook until browned, 3 to 4 minutes per side. Transfer to a plate. Add wine to the pan and cook for 1 minute. Add the flour-broth mixture, the reserved orange zest and juice, raisins, honey, cinnamon stick and the remaining 1/4 teaspoon salt; bring to a boil. Reduce heat to a simmer, return the chicken and any accumulated juices to the pan and cook, turning the chicken once or twice, until an instant-read thermometer inserted into the thickest part of the meat registers 165°F and the sauce has thickened, 10 to 12 minutes.

Transfer the chicken to a serving platter. Discard the cinnamon stick. Spoon the sauce over the chicken and garnish with the reserved orange slices and almonds.
Tips & Notes
Tip: To toast slivered almonds, cook in a small dry skillet over medium-low heat, stirring constantly, until fragrant and lightly browned, 2 to 4 minutes.
Per serving: 420 calories; 13 g fat ( 2 g sat , 7 g mono ); 74 mg cholesterol; 37 g carbohydrates; 31 g protein; 3 g fiber; 395 mg sodium; 587 mg potassium. Nutrition Bonus: Vitamin C (50% daily value), Magnesium (17% dv). Carbohydrate Servings: 2 1/2 Exchanges: 2 1/2 fruit, 3 1/2 lean meat, 1 fat
Fresh spring rolls with shrimp
Ingredients

2 cups water
8 large shrimp (prawns), peeled and deveined
1 ounce cellophane noodles
1 cup boiling water
1/2 cup shredded carrot
1/4 cup peeled, seeded and julienne cucumber
1/2 cup thinly sliced Napa cabbage
1/2 cup bean sprouts
2 tablespoons chopped fresh cilantro or fresh coriander
4 rice-paper wrappers, 8 inches in diameter
4 large fresh basil leaves, halved lengthwise

For the sauce
2 tablespoons hoisin sauce
1 green (spring) onion, including tender green top, thinly sliced
1 1/2 tablespoons fresh lime juice
1 1/2 teaspoons fish sauce
1 1/2 teaspoons unsalted natural peanut butter
1/4 teaspoon red pepper flakes
Pinch of brown sugar
Directions

In a saucepan, bring the 2 cups water to a boil. Add the shrimp and immediately remove the saucepan from the heat. Cover and poach until pink and opaque throughout, about 3 minutes. With a slotted spoon, transfer the shrimp to a bowl of ice water and let cool for 3 minutes. Drain and cut each shrimp in half lengthwise. Refrigerate until ready to use.

In a heatproof bowl, combine the noodles and boiling water and soak for 10 minutes. Drain and return the noodles to the bowl. Add the carrot, cucumber, cabbage, bean spouts and cilantro. Toss gently to mix.

Place a double thickness of paper towels on a work surface. Fill a large, shallow baking dish with water. Place 1 rice-paper wrapper in the water and soak until pliable, about 30 seconds. Carefully transfer the wrapper to the paper towels and turn once to blot dry. Arrange 1/2 cup of the noodle mixture on the bottom half of the wrapper.

Fold the bottom edge toward the center and roll up the wrapper halfway, making sure to wrap tightly around the filling. Tuck 2 basil leaf halves along the inside crease of the half-rolled wrapper. Arrange 4 pieces of the shrimp, cut sides up, along the crease. Fold the right and left edges of the wrapper over the filling and finish rolling up. Repeat with the remaining wrappers, filling, basil and shrimp. Transfer the rolls to a plate and cover with dampened paper towels.

To make the sauce, combine the hoisin sauce, green onion, lime juice, fish sauce, peanut butter, red pepper flakes and brown sugar in a small bowl. Stir until well blended.

To serve, cut the rolls in half on the diagonal and place on small individual plates. Pool the sauce alongside each roll.
Nutritional analysis per serving:
Serving size: 2 spring rolls; calories 198; Sodium 512 mg; Total fat 4 g;

Total carbohydrate 34 g; Saturated fat 0 g; Dietary fiber 4 g; Monounsaturated fat 2 g; Protein 10 g; Cholesterol 44 mg.